Today, I receive the following LinkedIn email… from a self-described "Branding Expert".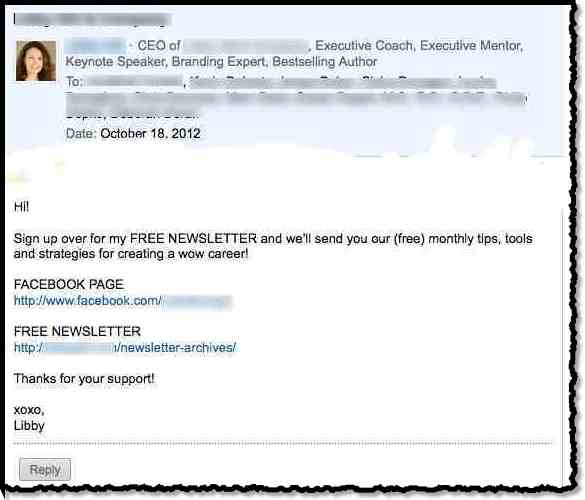 Tom Peters described a Personal Brand in his now famous 1997 article published in FastCompany;
'ÄúThe brand is a promise of the value you'll receive.'Äù
'ÄúHow do you decide whose messages you're going to read and respond to first — and whose you're going to send to the trash unread?
The answer: personal branding."
It's obvious that this individual has absolutely no idea what "Personal Branding" is, even though she describes herself as a "Branding Expert". I though I'd help her out, and anyone else reading this blog post.
First, just because I connect with you on LinkedIn does not give you the right to start sending me unsolicited emails. This, by it's nature, is Spam.
Second, LinkedIn is truly about networking; however, you seemed to have missed that part. Instead you broke just about every possible Networking rule.
#1. Since I don't know you, the first and only email you should have sent me is an introduction about yourself, and possibly a reason that you might be able to help me. The world does not revolve around you. I, like everyone else on this planet want to know "What's in it for me?" Clearly, you just want me to subscribe to your email list so you can send me more spam.
#2. Never send bulk or generic emails to people you don't know. Again, I don't know you and you sent me an email with the opening "Hi!"… and the email was addressed to at least 11 other people. Come on. Do you really think I'm even interested in opening the email in the first place?
#3. Your newsletter and facebook page may be great, but I'm not going to subscribe or visit until you give me a reason to do so. Quite honestly, even some of the worst spam offenders in the world offer me something… "Free Viagra", "$1 Million to my bank account, tomorrow", "Over night get rich quick schemes." How about a free tip on "Branding", since you are a "self-proclaimed" expert. You don't even do that. How sad. That's simply terrible marketing, too.
#4. Your signature is completely unacceptable in the context of Professional Networking and LinkedIn.
"XOXO" Hugs and kisses? Are you insane? This isn't Adultfriender.com or Match.com. Leave the Hugs and kisses for your kids or BFF!
I hope this was helpful and slightly enlightening.
When it comes to personal branding and networking, just you the old Golden Rule… "Do unto others as you would like them to do unto you." Most of the time, you'll be alright.
And please comment and share this with your network. We all can use a little laugh.
Please follow and like us: