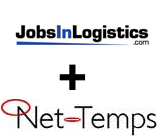 JobsInLogistics, one of the strongest brands in the transportation niche recruiting niche, announced the acquisition of Net-temps.com, one of the pioneers of Internet Recruiting, and one of the strongest brands in the Temp-to-Perm and part-time recruiting and staffing niche.
As a long time Internet recruiting veteran and Internet job board pioneer, I'm always interested, and more often, then not, amazed at many of the mergers and acquisitions within the HR technology and Internet Recruiting market.
Many of the Venture Capital funded companies never get off the ground, because they never had a business plan or technology that had much hope of really working (think BranchOut, Jobster, or any and all "automated psychological profile job matching algorithm companies").
Recently, Glassdoor raised an additional $50 Million, bringing their total investment to over $90 Million. I don't know the recent valuation for Glassdoor, but if the investors wanted a 10X return, Glassdoor would have to sell for well over $900 Million (a little under the current public valuation of Monster.com and DICE.com, combined).
So, seeing two of the best brands merge, who can provide synergies to each other in a real-profitable way, is always exciting.
Congratulations to Don Firth, of Jobsinlogistics.com, and Sue and Gregg Booth of Net-temps!
What are your thoughts about the acquisition?
Please follow and like us: