A couple of days ago, after severely injuring my low back while training for Ironman Canada (coming up in 3 weeks), I was referred to Chiro-Medical, a top notch Athletes Chiropractor and Medical office in San Francisco. (which I highly recommend… my Chiropractor was Daniel Lord, D.C).
With my head in my hands, dealing with the lower back pain, I slowly looked up an saw the following painting and quote on the wall.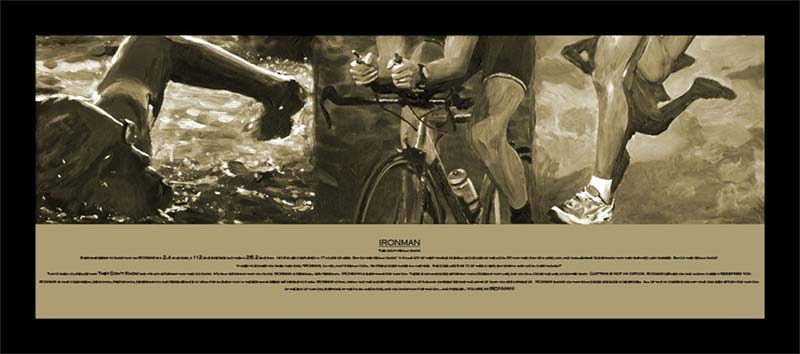 Here's the text from the quote.
Real inspiration. Especially as the date of my first Ironman triathlon looms closer.
They don't really know!

Everyone seems to know that an IRONMAN is a 2.4 mile swim, a 112 mile bike ride and then a 26.2 mile run. 140.6 miles completed in 17 hours or less. But do they really know? It rolls off of their tongue as easily as discussing the local 5K that they ran or a hard, hot, and challenging ¬? marathon that they survived last summer. But do they really know?

It used to bother you when they said, "IRONMAN, oh yea, that's really cool. My friend does those all the time. She does like 8 or 10 of them a year, but mostly just local ones though!"

That's when you realize that They Don't Know and it's not important that they do know. It's only important that you know. IRONMAN is personal, very personal. IRONMAN is everything for that day. There is nothing more important than crossing that line; and you will cross the line, no matter what. Quitting is not an option. IRONMAN defines you and in many cases it redefines you.

IRONMAN is your commitment, dedication, preparation, determination and perseverance to train for an event that in the beginning seems impossible to finish.

IRONMAN is pain, agony and the almost reckless passion of pushing yourself beyond the limits of what you are capable of.

IRONMAN shows you that boundaries are made to be broken. All of this to compete against your own best effort for that day.

At the end of that day, everyone at the finish line knows, and you know that for this day'Ķ and forever'Ķ YOU ARE AN IRONMAN!"

– Cole Braun, Founder, RACC, and 8 time Ironman Finisher.
The poster and quote above are for sale, with proceeds benefiting Racers Against Childhood Cancers. To purchase a print, or support RACC, click here
Please follow and like us: